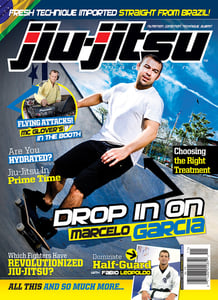 $

6.99
Once again, we killed it!
Dropping in on Marcelo Garcia
Flying Attacks with Jeff Glover
Dominating Half-Guard with Fabio Leopoldo
Hitting the Omoplata with Yuri Simoes
Supplement Q&A
Proper Hydration
Choosing the Right Type of Medic
Spotlight: Sean Roberts
Drill It: Loose Hips Win Championships
Build Your Core with Cage Fitness Routines
Feature: Those that Revolutionized Jiu-Jitsu
Jiu-Jitsu and the Amazing Race - Ryan Danz Goes for It!
Ryan Beauregard on Why You Want Judo
Mind Games: Visualize The Win
All that and much more, shipping now!