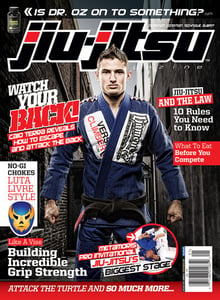 $

6.99
Just in the time for the new year our #1 resolution is to continue killing it!
Tough as nails, Caio Terra shows you how to escape and submit from the back.
Luta Livre No-Gi Chokes
Attacking the Turtle
What to Eat Before You Compete
Are Dr Oz's Recommendations Good For You?
Acrobatic Drills with Andre Galvao
Build Your Grip Strength
Spotlight: Henry Akins
How to Deal With Different Injuries
Jiu-Jitsu By the Numbers
The Legal Aspects of BJJ in Practice
Cyborg's Travels
Tons of Coverage from Metamoris Pro
And so much more! Get this issue now!