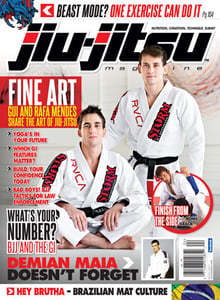 $

6.99
Lucky #13 is our April issue, go figure. Our first single month issue!
Inside:
The Art of Mendes Jiu-JItsu, Berimbolo, Leg Drags, and more
Attacks from Side Control with Ronis Gracie
Jiu-Jitsu for Law Enforcement
Mat Culture in Brazil
Demian Maia, his trust in jiu-jitsu in the UFC
Quad Stretches
Yoga and Jiu-Jitsu
Building Strength with Squats
Jiu-Jitsu Fighting And The Glycemic Index
Drug Testing and Jiu-Jitsu
Who Is: Jim Lawson
Spotlight: Magid Hage
What to look for in a Gi
All this and much, much more!
Ships within 48 hours.