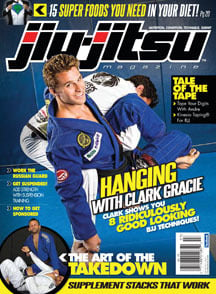 $

6.99
How could anyone argue that this isn't our best looking cover ever? The incredibly photogenic Clark Gracie shows us eight ridiculously good looking BJJ techniques and so much more.
Also in this issue:
The art of the takedown with Kenny Johnson
Leg Hook Guard with Joe Camacho
Finger Taping with Andre Galvao
Grub: 15 Super foods
Supplements: Stacks that work
Who Is: Meerkatsu
Spotlight: Marcos Torregrosa
Medic: Using Kinesio Tape
Getting Stronger with Suspension Training
Mind Games: The art of war and BJJ
Picking the Right Kettlebell
How-To Get Sponsored
And much, much more!!!
On-Sale Now, ships within 48 hours.