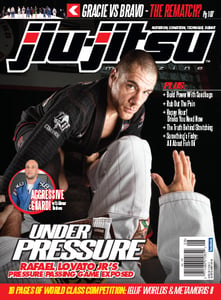 $

6.99
This really is our biggest issue ever, at least for now. 120 Pages of Jiu-Jitsu goodness.
Features:
American Legend - Rafael Lovato Jr shows us his Pressure Passing System
Aggressive Spider Guard with Abmar Barbosa
NoGi combinations with Dennis Asche
IFBJJ Worlds Coverage
Metamoris II Coverage
Grub: Super Drinks
Supplements: Fish Oil
Spotlight: Rules Controversy
Who Is? Brett Collins
Medic: Topical Pain Relievers
Warm-Up: Stretching
Strength and Condition: Sandbag Training
All this and so much more!