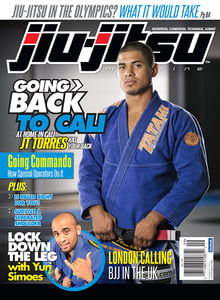 $

6.99
Another great issue is bursting at the seams with jiu-jitsu goodness!
JT Torres sheds light on things while showing us how to take the back and finish
Yuri Simoes gets crazy with the leg locks
Can jiu-jitsu become an Olympic sport?
Behind the numbers - Metamoris style
Going Commando - How Special Ops Use BJJ
Grub - Paleo Explained
Spotlight - Roberto Tussa Alencar
Medic - Shoulder Separations
Strength and Conditioning - Deadlifts
Mind Games - 10 Keys to Mental Strength
Gear Lab - Compression Gear
BJJ on the Road- London Calling!
This and much, much more!