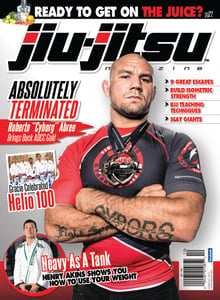 $

7.99
Your game has nowhere to go but up after reading this great issue!
Roberto "Cyborg" Abreu goes over his game including the Tornado Guard
Henry Akins shows you how to use your weight like never before
9 Great Escapes with Joe Camacho
Gracie Celebrated - Helio 100
Getting on the Juice!
Stretch using your belt
Making the right decisions
Learn how to teach
Fuji Sekai Gi reviewed
Trail Blazers - Outsiders who made Brazil home
Senior and Masters Worlds
And Much, Much More!