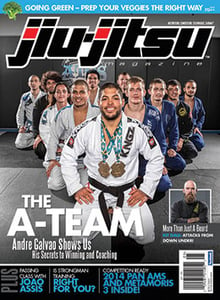 $

7.99
We go behind the scenes with Andre Galvao at Atos Jiu-JItsu and see what makes them win!
Technique:
Passing class with Joao Assis
All kinds of great technique with Andre Galvao
Working the Great White Grip with Kit Dale
Departements/Columns:
Grub: Blanching Green Veggies
Supplements: Stronger Bones
Warm-Up: Ball work with Jeff Glover
The Life: Competition
Mind Games: Organizing your Training
Medic: Elbow Injuries Revisited
Strength and Condition: Strongman Training for jiu-jitsu
Gear Lab: Grips Secret Weapon 2.0, Jimmy Pedro's Takedown Blueprint 2.0 DVD
Features:
Up and Coming Purple Belts
IBJJF Pan-Ams Coverage
Metamoris 3 Coverage
All this and a whole lot more. Ships within 48 hours.