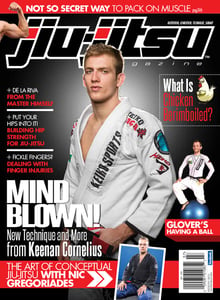 $

7.99
We had to do it, our biggest issue EVER! 132 jam packed pages of jiu-jitsu goodness.
On the cover - The inventor of guards - Keenan Cornelius!
Keenan shows us his new Knee bar guard and Lapel Guard.
Nic Gregoriades demonstrates jiu-jitsu concepts.
Jeff Glover shows us how to improve our top game with the help of a stability ball.
De La Riva Guard from Ricardo De la Riva himself!
Building strength in your hips.
Pack on muscle with oldest trick in the book
Dealing with finger injuries
Hungry? How about some Chicken Berimboiled?
The importance of self-evaluation in your jiu-jitsu game
More jiu-jitsu definitions
Getting to know Abraham Marte
All this and a whole lot more. Ships within 48 hours.