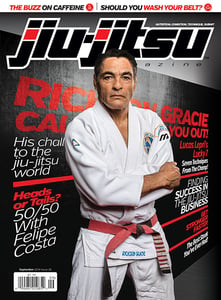 $

7.99
The issue we've all been waiting for!
Cover Feature: Rickson Gracie, he talks about his new federation, daily life, his health, and so much more.
Techniques:
Lucas Lepri - World Champion goes over 7 great techniques.
Felipe Costa works the 50/50 guard like a pro
Plus:
Owning the Dream - small business success in jiu-jitsu
Gear Lab Review - Storm F-Lite Gi, Combat X Trainer, Beyond Technique DVD
Keeping a Jiu-Jitsu Journal
Grub- The meat eater's guide to steak
Supplements- Caffeine
Warm-Up - Engaging your Neck
Intermittent Fasting Demystified
Being Efficient with your Workouts
All this and much more!
(NOTE: This issue was earlier mislabeled as "Oct/Nov")