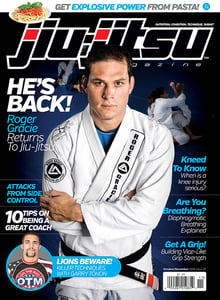 $

7.99
The issue we've all been waiting for!
Cover Feature: He said, "I'll be back!", and he is. Roger Gracie returns to show you how his traditional game is so effective against the opposition.
Techniques:
Garry Lee Tonon proves that you're never safe from him regardless of position.
Mike Diaz shows how to surprise your opponent from side control.
Plus:
Life - Who is Raul Montolfo?
Gear Lab Review - Ultimate Nutrition CarneBOLIC, Maeda Conde Koma Gi, Tape Armor, 93 Brand Citizen Fight Shorts.
Mind Games - 10 tips to be a better coach.
Grub - Carbo loading the right way!
Supplements - Q&A with Jeremy Reid.
Body - Build a vice like grip, diaphragmatic breathing, recognizing knee injuries.
All this and much more!