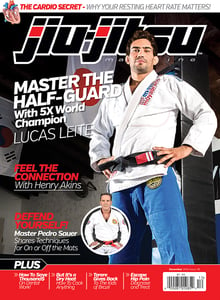 $

7.99
Oops, we did it again! We've tied the amount of pages with our biggest issue ever!
Cover Feature:
So you think you know half guard? Well one of it's greatest practitioners of it and multiple time World Champion, Lucas Leite, is going to show you how to master it.
Techniques:
Master Pedro Sauer shows you how to defend yourself and strike back, both on and off the mats.
Henry Akins teaches us how that it's all about CONNECTION.
Plus:
Life - White belts are people too, Terere's Social Project, BJJ Tour Florida and IBJJF Master's Worlds coverage.
Gear Lab - Manto Vai Finaliza! gi, GRIPS Gi Sack and why you needed a mouth guard yesterday!
Grub - How to submit food with the proper techni-heat and and interview with Ottavia Bourdain.
Body - Loosen up your quads, kettlebells to improve grappling, dealing with hip pain, and understanding your HR.
Success - Jiu-jitsu saves lives!
All this and much more!