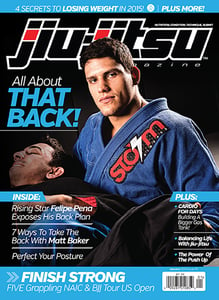 $

7.99
Happy New Year! We're starting off 2015 with even more amazing content in our magazine, as well as our newly revamped website! In this issue you'll find all of the following and more!
Cover Feature:
In just his first year as a black belt, Felipe Pena has won a 2014 IBJJF World Championship and took back to back tournament wins in the prestigious Copa Podio! "Preguiça" breaks down some of his spectacular arsenal for us!
Techniques:
Matt Baker shows us how to take the back from anywhere!
Plus:
Life - Make 2015 your best year ever, Spotlight: Rodrigo "Comprido" Medeiros, learn the intangibles, why a belt is not a gift, event coverage: BJJ Tours US Open and FIVE Grapplings NAIC, as well as tons of news!
Gear Lab - FUJI Sports Suparatio gi.
Grub - An apple a day..., get lean with supplements.
Body - Power up with push ups, the importance of posture, ask the doctor, how to build cardio for BJJ, fitness studies.
Mind - How's your arithmetic?
Success - From couch potato to stud muffin.
All this and much more!
Begins Mailing January 5th!