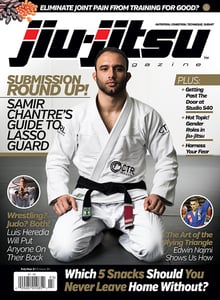 $

7.99
Cover Feature:
Yippee Ki Yay! Samir Chantre shows you how to get the better of the opposition with the lasso guard.
Techniques:
Edwin Najmi isn't stingy with his frequent flyer miles, as he breaks down how to execute the flying triangle.
Wrestling, Judo, or Jiu-Jitsu for the takedown? Why not all three, courtesy of Luis "Limao" Heredia.
Plus:
Life - Size Matters Not... Or Does It?, Gender Roles In Jiu-Jitsu, Red Carpet Treatment At Studio 540.
Gear Lab - Gameness EL!TE Gi, SISU Max Guard 2.4, DVDS: Non-Stop Jiu-Jitsu, The Faria Guard, The K.A.T.C.H. Leg Attack System.
Spotlight - Ben Saunders.
Grub - Healthier snacks that will fix you up better than a Snickers.
Body - The Power of the Plank, Sledgehammer Swings, Rest and Recovery.
Success - Never Out Of The Fight!
All this and much more!