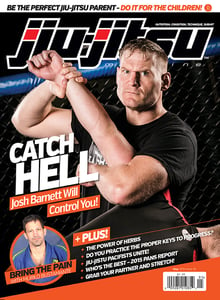 $

7.99
We're fresh off of our first issue since increasing from 10 to 12 issues per year to give you more awesome content for the same great price! Subscribe immediately to get the current rates for a one or two year subscription while you still can and we'll throw in our digital version available on your smartphone, tablet, or laptop for absolutely free!
Cover Feature:
Catch-as-catch-can stand out, former UFC Heavyweight Champion, Metamoris Heavyweight Champion, jiu-jitsu black belt, and certified bad ass, Josh Barnett shows you how to control the opposition!
More Technique:
Another former UFC Champion and World Jiu-Jitsu Champion, the legend Murilo Bustamante puts the pressure on and brings the pain!
Plus:
Spotlight - Rising star Isaac Doederlein has gained the confidence to go with his already stellar game and the results are scary!
Life - The 2015 IBJJF Pans: What Happened And Who Reigned Supreme, Proper Parenting Advice, There's A Right Way To Track Progress And Set Goals
Fuel - The Power Of Herbs, Make Every Z Count
Body - Do You PNF?, The Top 3 Core Moves You Should Know, Understanding And Treating Wrist/Hand Injuries
Mind - Pacifism In BJJ, Dropping Stones
All this and much more!