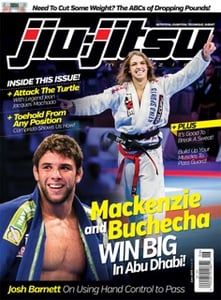 $

7.99
This is one of our hottest issues to date! Subscribe for a print versions and receive our digital version available on your smartphone, tablet, or laptop for absolutely free!
Cover Feature:
Direct coverage from the 2015 UAEJJF World Professional Championships in Abu Dhabi! Our Editor-In-Chief provides 11 pages of an inside look from the event!
Technique, technique, technique:
The original JJM (Jean Jacques Machado) shows you how to get the turtle to stick it's head out of it's shell and finish!
Rodrigo "Comprido" Medeiros demonstrates how to finish from anywhere with the toe hold!
"The Warmaster" Josh Barnett is back with more hand control, to shut down the guard and pass!
Plus:
Life - PPV Wars, The American Cup, and Grassroots Grappling
Gear - Falcon Brand Gi and Gameness JJ Specific Backpack
Fuel - How To Smoothie and HICA
Body - Partner Up For Power, Passing Exercises, and What's The Deal With Sweat
Mind - Your Instincts May Be Getting The Best Of You and The Incredible Shrinking Man
All this and much more!