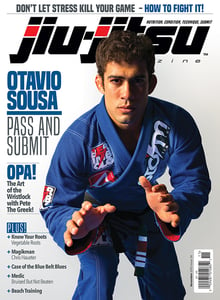 $

7.99
You're going to love this one! Passes, Submissions, and Wristlocks!
Otavio Sousa is one of the best passers in the game, he gives us a look at some of his favorite passes along with some surprising finishes.
Pete The Greek is a master of wrist locks, you'll be amazed at from how many positions he can make you cry.
Also in this issue:
• Why do so many people quit jiu-jitsu when they receive their blue belts?
• How to incorporate more root veggies into your diet
• Which supplements can help you knock out stress
• Chris Haueter and the Combat Base
• What other types of physical activities can improve your jiu-jitsu?
• Reviews of the Manto Victory BJJ Gi and Defense Soap Equipment Spray
• IBJJF Jiu-Jitsu No-Gi Pan Ams Coverage
• Ask the Doctor Q&A
• Bruising in jiu-jitsu, when it's normal or something more serious
• The benefits of Beach Training
• 5 Tips on being a Success
All this and much more!