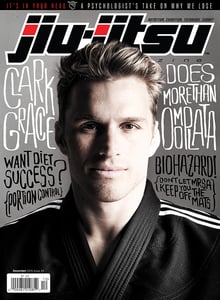 $

7.99
Clark Gracie goes over the Kimura Grip Control with a ton of finishes you can use right away.
Alberto Crane shows us how to master the Crucifix.
Also in this issue;
When jiu-jitsu and metal meet
IBJJF No Gi Worlds
BJJ Tour US Open XX
Reviewed: Flow Kimonos Hemp Gi
How-To: Finger Taping
Mind Games: Putting Your Mind in Gear
Success: Brian Richards
Grub: The Secrets of Portion Control
Warm-Up: The Glute Bridge
Medic: Avoiding and dealing with MRSA
Gains: Building a Strong Neck
All this and much more!