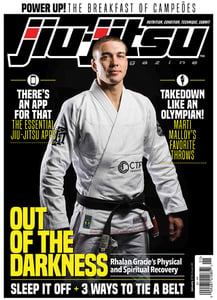 $

7.99
We met up with Rhalan Gracie and discuss challenges faced off the mat along with some useful techniques for all levels. Olympian Judoka Marti Mallow tossed us around in order to show us some of her amazing takedowns.
Also in this issue;
Ideas to Improve Officiating
How-To Guide on Belt Tying
Mind Games: To Compete or Not to Compete
Grub: A Knock Out Breakfast
Medic: The Importance of Sleep
The Life: Grapplers' Apps
Reviewed: Storm Kimonos: Typhoon Ultra Lite Gi
Gains: Strengthen Your Weak Spots
All this and much more!