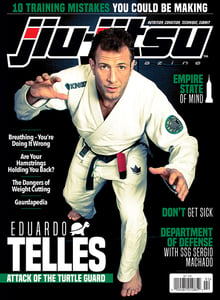 $

7.99
Eduardo Telles shows how to attack from the Turtle Guard! Sergio Machado goes over a series of defensive techniques that will help get you out of a tough spot.
Also in this issue:
Gotham's Finest Grapplers
Eddie Bravo Invitational 5
Guardapedia: Expanding Your Vocabulary
Grub: Whole Food or Liquid
Warm-Up: Hamstring Stretches
Medic: Dangers of Weight Cutting
How-To: Breathe and Exhale
Gains: 10 Strength and Conditioning Mistakes You Might Be Making
All this and much more!