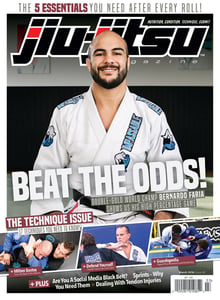 $

7.99
Double Gold World Champ Bernardo Faria shows some of his high percentage techniques. Master Claudio Franca gives a lesson in self-defense. Milton Bastos shows us some ways to take and attack the back.
Also in this issue:
Nutritional Needs of Jiu-Jitsu Athletes
5 Post Training Essentials
Spotlight: Nick "The Tooth"
Warm-Up: Ankle Stretches
How-To: Becoming a Social Media Black Belt
Reviewed: Hypnotik – Bearimbolo Gi
Medic: Tendon and Muscle Injuries
Gains: Sprinting and how it can change your jiu-jitsu
All this and much more!