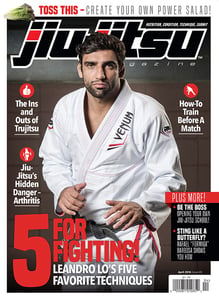 $

7.99
Leandro Lo shows us five of his favorite techniques that have made him into one of the world's best jiu-jitsu competitors. Rafael "Formiga" Barbosa shows the butterfly guard. Matt Baker uses Trujitsu to control and submit his opponents.
Also in this issue:
Concepts in Jiu-jitsu
Supplements: Curcumin
Grub: Lean Mean Salad Greens
Spotlight: Sophia Drysdale Goes Down Under
The Life: Inside Training Camp
Medic: Grappling with Joint Longevity
Warm-Up: Wrist and Hands
How-to: Opening Your Own School
All this and much more!