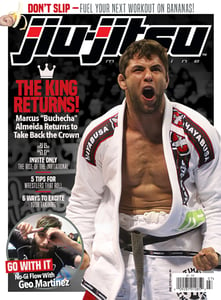 $

7.99
After a hiatus from the jiu-jitsu world due to an injury, Marcus "Buchecha" Almeida returns to take back his crown. Not only are we mat side for his triumphant return but he also shows us some techniques he used in his matches.
Also in this issue:
Geo Martinez No-Gi Flow
Who is Bong Abad
The Rise of Invitational
Tips for Wrestlers in Jiu-Jitsu
Event coverage of the 2016 IBJJF World Championships
Going Bananas for Bananas
Warm Up - Wrestling Sprawls
Medic - A Grapplers Guide to Anti-Inflammatories
This and much more!