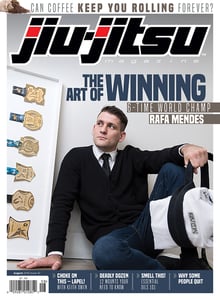 $

7.99
Sometimes Rafa Mendes makes it look easy, we call that the Art of Winning. In this issue Rafa discusses what it takes to become one of the greatest competitors of all time. He also shares with us many of his dynamic techniques.
Also in this issue:
Lapel Chokes with Keith Owen
Mount Vocabulary
Why every grappler should drink coffee
Essential Oils, more than just BS?
The 90/90 Hips Switch Warm-Up
Medic - Hip Pains and Pulled Groins
Gains - Lift Jitsu
Mind Games - Why people quit
Event Coverage - BJJ Tour Connecticut and Nordic Naturals All-Star
Who Is? Fabio Gurgel
The Life - Oss!
All that and much more!