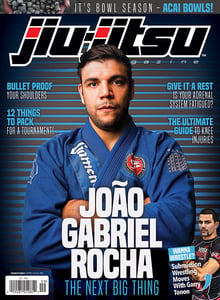 $

7.99
This issue killed it! Joao Gabriel Rocha, if you don't know who he is yet you will very soon. If anyone is going to dethrone Buchecha any time soon Joao is the one. He discusses many great techniques you can use today along with his battle with cancer, yeah - Cancer!
Also in this issue Submission Wrestling moves with none other than Garry Tonon!
Also in this issue:
All about Acai
Getting the most from your Adrenal System
The Tablemaker Warm-Up
Who Is: Jessica Oliveira
Gear Lab: Flow Kimonos Pro Series Gi
How-To: Advice for New Referees
The Ultimate Guide to Preventing and Treating Knee Injuries (Must Read!)
Gains: Bulletproof your Shoulders
Success and More!