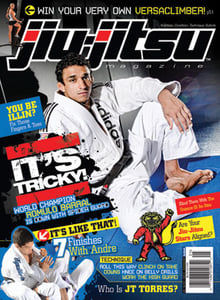 $

6.99
Another packed issue of pure Jiu-Jitsu!
In This Issue:
Spider Guard with Romulo Barral
7 Finishes with Andre Galvao
High Guard by the Numbers with Juliano Prado
Clinch on Take Downs with Kenny Johnson
Knee on Bell Drills with Andre
Who Is JT Torres?
Diet Q&A
All About BCAA's
Unconventional Full Body Workout
Your Jiu-Jitsu Zodiac
The Physics of Jiu-Jitsu
The Thinking Man's Jiu-Jitsu (Mind Games)
All this and much more!
Free Shipping anywhere in the United States for a limited time!