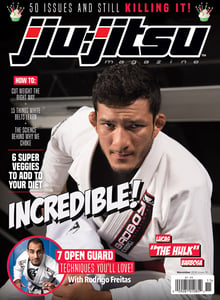 $

7.99
We celebrate our 50th Issue and still killing it with Lucas "The Hulk" Barbosa. In this issue he will show you how to Hulk Smash Pass. Also covered in this issue.
• How to Cut Weight the Right Way
• 15 Things White Belts Learn
• The Science Behind Why We Choke
• 6 Super Veggies to Add to Your Diet
• Open Guard Techniques You'll Love With Rodrigo Frietas
• Who Is? Rodrigo Teixeira
• Water Ball Training For Grapplers
All this and more!