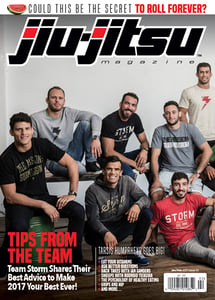 $

7.99
Team Storm storms the pages of Jiu-Jitsu Magazine. The entire team has some tips and advice to share. Especially Renato Laranja! Meanwhile, learn how Tarsis Humphrys is going BIG! Also covered in this issue:
• Secret to Rolling Forever?
• Eat Your Vitamins
• Back Takes with Ian Sanders
• The Psychology of Healthy Eating
• Sweeps With Rodrigo Teixeira
• Grips and Hips With Mike Saffaie
All this and more!