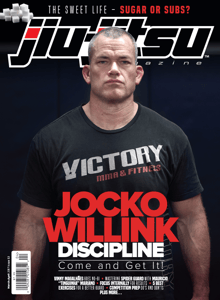 $

7.99
Our most discipline issue ever! Jocko Willink shares his simple formula for success in an endeavor along with some techniques that might come in handy some day. Also in this issue:
Spider Guard Mastery with Mauricio "Tinguinha" Mariano
Behind the Scenes at Onnit HQ
Jiu-Jitsu Etiquette
The Do's and Don'ts of Competition Prep
Who Is - Maynard James Keenan
No-Gi Finishes with Vinny Magalhaes
Grub - Sugar or Substitutes?
Supplements - CoQ10
Common Medications to Avoid When Training
The Five Best Exercises for a Better Guard
Finding Your Focus to Stay the Course
All this and much more!