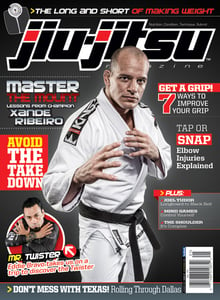 $

6.99
Our biggest issue yet! 116 packed pages!
In This Issue:
Mastering the Mount with Xande Ribeiro
Discovering the Twister with Eddie Bravo
Stuffing the Take Down with Kenny Johnson
Dieting to Make Weight
Making Weight at the Last Minute
Warm-Up Those Shoulders
Joint Supplements You Need
BJJ in Dallas
Spotlight on Joel Tudor
Dealing with Elbow Injuries
Lots of Products Tested
All this and much more!
Free Shipping anywhere in the United States for a limited time!