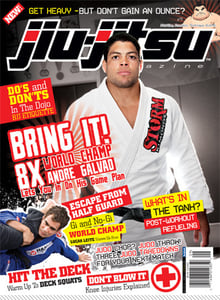 $

6.99
Our Third Issue
100 full color pages packed with nothing but pure jiu-jitsu!
Features:
Andre Galvao Shows You His Game Plan From Start To Finish
Escape from Half Guard with Lucas Leite
Marcelo Carvalho Goes over Judo Take Downs
Grip Fighting Drills with Andre Galvao
Warm Up with Deck Squats
Stretch Your Hamstrings
Guide To Understanding Carbohydrates
Post Workout Refueling
Get Explosive with Bench Press Throws
Proper DoJo Etiquette
Feel Heavier Than You Are
Get The Most From Rolling With Better Grapplers
Diagnosing Knee Injuries
Photos From The Worlds
All this and more!
Usually mailed within 48 hours.
Free Shipping anywhere in the United States for a limited time!